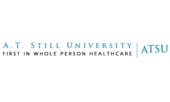 Request information
School

School Type:
Online
Degrees Offered:

Master's

Doctoral

Students

| | |
| --- | --- |
| Enrolled Students: | 3,778† |
| Student to Faculty Ratio: | 12 to 1† |

Cost

| | |
| --- | --- |
| In State Tuition: | $0† |
| Out of State Tuition | $0† |
† Indicates school information is being used instead of campus information
Master's Degrees
Doctoral Degrees
Missouri
Our Mission
A.T. Still University of Health Sciences serves as a learning-centered university dedicated to preparing highly competent professionals through innovative academic programs with a commitment to continue its osteopathic heritage and focus on whole person healthcare, scholarship, community health, interprofessional education, diversity, and underserved populations.
First in Whole Person Healthcare
As the founding institution of osteopathic medicine, ATSU students and faculty are part of a distinguished heritage of humanistic healthcare based on an integrated approach that includes the body, mind, and spirit of each patient. All three elements work in tandem to provide a more thorough and highly personalized healthcare delivery model that promotes wellness and meets the health needs of each patient. This approach distinguishes ATSU for innovation in post-graduate healthcare education. Graduates become compassionate leaders proposing global health solutions and meeting unmet community health needs.
Each program, from audiology to dentistry, family practice to public health, integrates the principles of whole person healthcare into its curriculum and emphasizes the important role of health education, health coaching, and well-coordinated treatment plans that foster collaboration with each patient.
The goal of the College of Graduate Health Studies at A.T. Still University is to provide comprehensive and relevant online health management knowledge through superior quality, innovative online education. Our degree programs provide working healthcare professionals with an opportunity to earn a prestigious degree with the flexibility to work around their busy work environments. Students and future graduates join part of the 125-year history of excellence and are connected to an extensive family of professionals that have the passion to serve where needed most.
Student Support Services
Academic Advisors
Each student is paired with an academic advisor that provides specialized support for their program. Advisors are there for student support ranging from
Writing Center
Struggle with writing at a master's or doctoral level, or just want an extra pair of eyes on a particularly tough assignment? Our dedicated Online Writing Center staff are there to help you through our writing intensive curriculum and are there for your success.
Library Services
In many online programs, students may lack access to a library full of all the essential research materials for coursework and projects, not at A.T Still. Even online, our students have full access to the vast medical and dental research libraries of ATSU. Most any book you might need is available in online format, even some textbooks.
Career Services
While many of our students are already in the job of their dreams, or are just looking to gain the knowledge necessary to take the next step in their careers, our career services center is always there to help any student with resume preparation, online interviews, and career advice.
Admissions
We want to hear from you! Whether you are thinking about going to graduate school and have a background in health professions, or have questions about a specific program, our experienced admissions team members can help you with every step of the process.
Application Deadlines
Fall Block I (July Start): June 25, 2018
Fall Block II (October Start): September 10, 2018
Spring Block I (January Start): December 10, 2018
Spring Block II (March Start): March 4, 2019
Student Ambassadors
Have a specific question about your program and want to hear from a student who has been in your shoes before? Contact our admissions team so they can set you up with one of our volunteer student ambassadors
Financial Aid
Our financial services office assist accepted students in developing individualized support packages including federal student loans and veterans benefits.
Accreditation
A.T. Still University is a private nonprofit university recognized by the Council for Higher Learning Accreditation (CHEA) and fully accredited by the Higher Learning Commission.
ON THE WEB
Website: www.atsu.edu/cghs
Twitter: @ATSU_news
www.twitter.com/ATSU_news
Facebook: @atstilluniversity
www.facebook.com/atstilluniversity
Request information