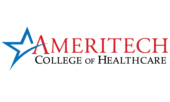 Request information
School

| | |
| --- | --- |
| School Type: | Campus |
| Degrees Offered: | Diploma |

Accreditation

The Accrediting Bureau of Health Education Schools (ABHES) has institutionally accredited Ameritech College since 1984. ABHES is listed by the U.S. Department of Education as a nationally recognized accrediting agency under the provision of Chapter 33, Title 38 of the U.S. Code and subsequent legislation. Address inquiries to:
Accrediting Bureau of Health Education Schools
7777 Leesburg Pike, Suite 314 N.
Falls Church, Virginia 22043
(703) 917-9503
www.abhes.org
†
† Indicates school information is being used instead of campus information
Diplomas
Your Path to a Career in Healthcare
Ameritech College of Healthcare is student-centered and truly cares about students' success. Since we opened our doors in 1979, Ameritech College of Healthcare has focused exclusively on training confident and competent healthcare professionals.
Our approach is simple. We provide hands-on learning with an emphasis on real-world experience. As a result, you will graduate with the confidence and the knowledge it takes to enter the workforce, and successfully start your career.
• Medical Assisting Program (45 weeks)
Our medical assisting program in Utah provides students with foundational instruction in medical language, anatomy and physiology, patient centered communication and education. Graduates of our medical assisting program start their careers after just 12 months in school and enjoy high job placement rates. This program is offered on our campuses in Draper and Provo.
• Dental Laboratory Technician Program (45 weeks)
Our dental laboratory technician diploma program prepares students to create precisely fabricated crowns and bridges and use a variety of materials to closely resemble natural dentition in just 12 months. Ameritech offers Utah's only accredited dental laboratory technician program.
• Occupational Therapy Assistant Program (75 weeks)
Our accelerated curriculum model requires only 20 months to complete and receive an associate's degree. Prepared through didactic coursework, experiential learning, and ancillary certifications, students will graduate ready for a lifetime of working in healthcare.
• RN to BSN Degree Completion Program (45 weeks)
This program is designed for busy working nurses who wish to continue their education by earning a Bachelor of Science in Nursing (BSN). The program is delivered 100% online and can be completed in as little as 3 semesters. Having graduated with an Associate Degree in Nursing is the requirement to enroll in this program.
Throughout the years, we have remained committed to making college accessible and affordable to anyone who wishes to pursue a healthcare degree. Financial aid and scholarship opportunities are available for those who qualify. As an Ameritech graduate, you'll also enjoy lifetime career placement. With employers always looking for qualified healthcare professionals, the time to get the training you need to secure your future career is now.
For additional details, fill out and submit the information request form.
Request information