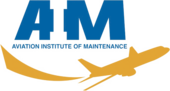 Request information
School

| | |
| --- | --- |
| School Type: | Campus |
| Degrees Offered: | Diploma |

Accreditation

Aviation Institute of Maintenance is accredited by the Accrediting Commission of Career Schools and Colleges (ACCSC.)†
† Indicates school information is being used instead of campus information
Diplomas
Aviation Maintenance Technical Engineer
Aviation Maintenance Technician
California
Florida
Georgia
Indiana
Missouri
Nevada
Pennsylvania
Texas
Virginia
Aviation Institute of Maintenance schools are distinguished institutes committed to the education and personal enrichment of each student interested in the Aviation Industry. Students can succeed in our collegiate environment when properly motivated and taught to set goals in furthering their education. All aspects of our mechanic school are enriched with creating an atmosphere conducive to learning, while instilling a high degree of business ethics and professionalism. This facilitates the easy transition from a student to a professional career in aircraft maintenance. Each aviation program offered is specifically designed to qualify graduates for a career position in aircraft or related fields.
Through the Aviation Institute of Maintenance FAA-approved programs, you'll learn about aviation servicing, aircraft maintenance, avionics and repairing today's aircraft; from small prop airplanes to the largest aircraft. The aviation mechanic field offers a broad range of job opportunities in cities of all sizes throughout the world.
AIM, Centura and Tidewater disclosure:
FAA Approved A&P School. Accredited School, ACCSC. AIM Chesapeake and Manassas campuses are Certified to Operate by SCHEV. AIM Las Vegas campus is licensed to operate by the Commission on Postsecondary Education. AIM Indianapolis is regulated by Office for Career and Technical Schools 10 N Senate Avenue, Suite SE 308 Indianapolis IN 46204 OCTS@dwd.in.gov 317-234-8338 or 317-232-1732 http://www.in.gov/dwd/2731.htm. For Consumer Information, visit www.AviationMaintenance.edu.
Request information