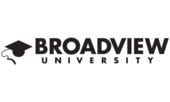 Request information
School

School Type:
Campus
Degrees Offered:

Diploma

Associate

Accreditation

Broadview University (formerly Globe University) is nationally accredited by Accrediting Council for Independent Colleges and Schools to award master's degrees, bachelor of science degrees, bachelor of fine arts degrees, associate in applied science degrees and diplomas. †
† Indicates school information is being used instead of campus information
Associate
Diplomas
Online
Wisconsin
At Broadview University, we help you see college differently.
Here, you gain real-world skills through Applied Learning—not just seat time in an auditorium. You collaborate with professionals in the field you're interested in—not just professors. And, people who know and care surround you and care about your success personally; you aren't just another face on a crowded campus.
Plus, by receiving credit for your previous work or life experience, you could fit school more easily into your schedule and budget.*
Choose from hands-on diploma, certificate, and/or degree programs in: Business, Health Science (Ask about our Allied Health Scholarship!), Legal Science.
Broaden your opportunities with an education from Broadview University. Take the next step today by requesting more information.
* See Broadview University catalog for full requirements. Credit decisions are always at the discretion of the receiving institution.
† Programs may vary by campus. For more information about our on-time completion rates, job-placement rates, the median debt of students who completed the program, and other important information, please visit our website at http://broadviewuniversity.edu/campus-programs/
Request information