Request information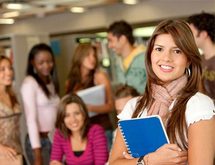 Location
325 Central Ave
White Plains, NY 10606
Since 1915, The College of Westchester (CW) has focused on the career success of its students. CW's academic programs are carefully designed to provide the skills and competencies most desired by employers. Our campus environment is highly personal and our culture centers on service to students. CW faculty is selected based on experience, credentials and a caring attitude to bring real world knowledge to the classroom. The College's technologies and web-enhanced learning tools give students anywhere, anytime connectivity to courses, professors, classmates and services. The College of Westchester offers an exceptional experience that can lead to a lifetime of achievement and success.
School

School Type:
Campus
Degrees Offered:

Certificate

Associate

Bachelor's

Accreditation

The College of Westchester is accredited by:
The Middle States Commission on Higher Education, 3624 Market Street, Philadelphia, PA 19104 (267-284-5000). The Middle States Commission on Higher Education is an institutional accrediting agency recognized by the U. S. Secretary of Education and the Council for Higher Education Accreditation.

Authorized by the New York State Board of Regents to confer: Bachelor of Business Administration (B.B.A.), Bachelor of Science (B.S.), Associate in Applied Science Degree (A.A.S), and the Associate in Occupational Studies Degree (A.O.S).

All programs offered are registered by the New York State Education Department.

Program Disclosure link:
http://www.cw.edu/program-disclosure-information

Federal Disclosure link:
http://www.cw.edu/federal-disclosure-information
Associate
Accounting - Associate
Accounting for Business (Online)
Business Administration-Management/Marketing - Associate
Computer Network Administration - Associate
Health Information Administration (Online)
Medical Assistant Management - Associate
Bachelor's Degrees
Accounting - Bachelor's
Business Administration - Bachelor's
Business Administration - Management (Online)
Health Services Administration - Bachelors
Information Technology - Bachelor's
Certificates
Computer Networking Specialist - Certificate
Digital Media Specialist - Certificate
Health Information Specialist - Certificate
Intensive Accounting/Computer Applications - Certificate
Medical Assistant Specialist - Certificate
Medical Office Specialist - Certificate
Online
New York
The CW Advantage
Career focus programs designed with employer input.
Personalized admissions, career planning and financial aid advisement.
Caring small college environment with lots of personal attention.
Committed professors who care about your success.
Flexible scheduling: day, evening, and online classes.
Hybrid Courses offering the best of online and on campus learning.
Excellent academic support services.
Request information