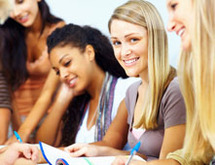 Medaille College Online
Medaille College is an independent, nonsectarian, coeducational institution of higher learning. Its purpose is to make available to all qualified students postsecondary educational opportunities to meet their individual needs for lifelong intellectual and professional growth. Medaille College concentrates on excellence in teaching, with an emphasis on personal attention to its diverse student body. Its curriculum provides a solid liberal arts and sciences foundation with early access to career-oriented education. The College offers cultural, economic, and community services as part of its educational mission.
Accreditation
Medaille College is accredited by the Commission on Higher Education of the Middle States Association of Colleges and Schools, 3624 Market Street, Philadelphia, PA 19104, (215) 662-5606.
Key Data
School Type:
Online
Degrees Offered:

Associate

Bachelor's

Master's
View our program list