Troy University
Troy
According to the school, as of August 1, 2005, the campuses of Troy State University, Troy State University Dothan, and Troy State University Montgomery merged to become Troy University. From its roots as a normal school founded in 1887, Troy University has grown into a nationally acclaimed university. Publications such as the Princeton Review, Kaplan/Newsweek College Catalog, U.S. News and World Report and Money Magazine's Guide to Colleges and Universities have recognized TROY as an outstanding educational value.\r\n\r\nTroy University serves more than 27,000 students worldwide on its main campus in Troy and three other Alabama campuses in Dothan, Montgomery, and Phenix City. Troy University, through its University College division, also operates more than 60 campuses, many on U.S. military bases, outside Alabama in 17 other U.S. states and 11 countries. Troy University also serves approximately 3,500 students worldwide through distance-learning methods, primarily via the Internet.\r\n\r\nExemplary teaching remains the primary focus of all Troy University campuses, although many faculty members are engaged in research as well. The Troy Campus is a traditional campus with residence halls, intercollegiate athletics, and the full range of student services primarily designed for the 18-23 year old undergraduate. The Dothan, Montgomery, and Phenix City campuses primarily serve the nontraditional student with many of the classes held at night and on weekends to better serve adult learners. The University College division also primarily serves adult students; and many of the students are members of the U.S. armed forces or their dependents.
Key Data
| | |
| --- | --- |
| School Type: | Campus |
| Degrees Offered: | |
Student Life
Enrolled Students:
29,524
Student to Faculty Ratio:
27 to 1
Annual Cost
In State Tuition:
$4,924
Out of State Tuition
$9,556
Books and Supplies
$1,062
Students with Financial aid:**
88%
** Refers to % of students receiving some form of financial aid
Back to campus overview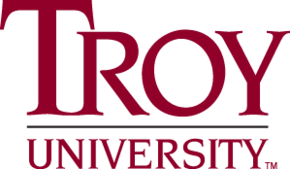 Request information from Troy University
Complete the form below and DegreeSearch.org will send your information to Troy University.
Degree Search is not affiliated with Troy University, but will attempt to send this request on your behalf. Your privacy is important to us. Privacy Policy
If you are affiliated with Troy University and would like to update the information or learn more about our college directory, please contact us.