Request information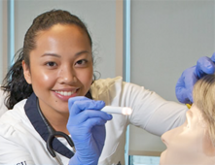 Location
1477 S. Manchester Ave.
Anaheim, CA 92802
For graduation rates, median debt of graduates completing these programs and other important information, visit westcoastuniversity.edu/disclosures
School

School Type:
Online
Degrees Offered:

Bachelor's

Master's

Doctoral

Accreditation
† Indicates school information is being used instead of campus information
Bachelor's Degrees
BSHA - Bachelor of Health Administration (Online)
Master's Degrees
MHA - Master of Health Administration (Online)
MPH - Master of Public Health (Online)
MSN - Advanced Generalist (Online)
MSN - Family Nurse Practitioner (Online)
MSN - Informatics (Online)
MSN - Nurse Educator (Online)
Doctoral Degrees
California
Texas
For over 100 years, West Coast University has been educating and preparing students for professional careers. Today, WCU is committed to a unique student-centric approach to advanced healthcare education—combining critical thinking with hands-on experience to put our students "ahead of the curve."
Online or on-campus, we have a single purpose: the advancement of healthcare in the communities we serve, and around the world.
Our range of healthcare programs—from a bachelor's to a master's to doctorate level degrees—combined with our technologically advanced facilities are all designed to help you gain the knowledge, experience, and confidence you'll need to take on critical roles in today's healthcare environments. Plus, our online healthcare program environment is designed to support you and keep you connected.
As medical techniques and technology take impressive strides forward, West Coast University is committed to help prepare the next generation of healthcare professionals and leadership through academic excellence, fostering of a student-centric culture and investment in advanced campus facilities.
Applicants for the Online MSN or RN to BSN programs must have an ADN or diploma in nursing and hold a current, unobstructed RN license in the U.S.
Request information