West Virginia State University
Institute
Founded in 1891, West Virginia State University is a public, land-grant, historically black university, which has evolved into a fully accessible, racially integrated, and multi-generational institution. The University is a living laboratory of human relations, a community of students, staff, and faculty committed to academic growth, service, and preservation of the racial and cultural diversity of the institution. Our mission is to meet higher education and economic development needs of the state and region through innovative teaching and applied research.\r\n\r\nThe undergraduate education at the University offers comprehensive and distinguished baccalaureate and associate degree programs in business, liberal arts, professional studies, sciences, and social sciences. In addition, the University provides opportunities for graduate education.\r\n\r\nWest Virginia State University offers encouragement and education through flexible course offerings in traditional classrooms, in non-traditional education settings, and through distance learning technologies. With the goal of improving the quality of our students' lives, as well as the quality of life for West Virginia's citizens, the University forges mutually beneficial relationships with other educational institutions, businesses, cultural organizations, governmental agencies, and agricultural and extension partners.\r\nThe following values guide our decisions and behavior:\r\n\r\n academic excellence;\r\n academic freedom;\r\n advancement of knowledge through teaching, research, scholarship, creative endeavor, and community service;\r\n a core of student learning that includes effective communication, understanding and analysis of the interconnections of knowledge, and responsibility for one's own learning;\r\n lifelong growth, development, and achievement of our students;\r\n development of human capacities for integrity, compassion, and citizenship;\r\n our rich and diverse heritage;\r\n personal and professional development of our faculty and staff; and\r\n accountability through shared responsibility and continuous improvement.\r\n\r\nWest Virginia State University is a vibrant community in which those who work, teach, live, and learn do so in an environment that reflects the diversity of America. Our comprehensive campus, which includes the West Virginia State Community and Technical College, provides numerous educational opportunities for our students. We take great pride in our accomplishments and envision building upon associate degree programs, baccalaureate education, graduate offerings, and excellence in teaching, research, and service.
Key Data
| | |
| --- | --- |
| School Type: | Campus |
| Degrees Offered: | |
Student Life
Enrolled Students:
4,009
Student to Faculty Ratio:
24 to 1
Annual Cost
In State Tuition:
$4,524
Out of State Tuition
$10,764
Books and Supplies
$1,152
Students with Financial aid:**
83%
** Refers to % of students receiving some form of financial aid
Back to campus overview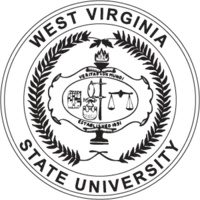 Request information from West Virginia State University
Complete the form below and DegreeSearch.org will send your information to West Virginia State University.
Degree Search is not affiliated with West Virginia State University, but will attempt to send this request on your behalf. Your privacy is important to us. Privacy Policy
If you are affiliated with West Virginia State University and would like to update the information or learn more about our college directory, please contact us.