Forensics
Online forensics degrees from accredited universities and schools.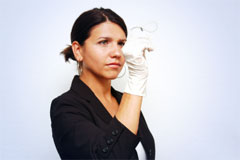 What is Forensics?
According to Wikipedia, Forensics refers to "the application of a broad spectrum of sciences to answer questions of interest to the legal system. This may be in relation to a crime or to a civil action." Forensic specialists spend countless hours in the lab analyzing evidence taken from crime scenes, such as weapons and ballistics, bones, hair, and blood to try and piece together the happenings of the crime. Another important responsibility of forensic specialists is acting as key witnesses in trials and testifying in court.
Degrees in Forensics
Forensics being a science based career path demands expertise in biology, chemistry, physics, medicine, and the other sciences pertinent to excelling in this profession. As such, a minimum of a bachelor's degree is usually required and even more so an advanced degree is preferable. Lab experience and internships are also imperative to learning the meticulous nature of the work involved in forensics.
Job Opportunities in Forensics
According to the U.S. Department of Labor, entry-level forensic science technicians could expect a starting wage of $21.16 per hour in 2004. Experienced crime lab professionals have potential earning power of $40,000 to $85,000, and some lab directors can earn as much as $100,000. Specialized positions include that of medical examiners, crime laboratory analysts, crime scene examiners, and forensic engineers. Career opportunities in this field are expected to rise, as the retrieval of evidence from crime scenes becomes more demanding and technologically challenging.