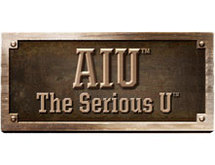 American InterContinental University, a member of the American InterContinental University System
At American InterContinental University, our educational approach is designed around the realities and challenges of today's busy lifestyles, and for over forty years, we have been helping students gain the knowledge, skills and confidence to pursue the next level of their professional development.
If you're in the process of researching schools where you can balance your current life and responsibilities with your desire to earn a career-focused degree, you've come to the right place. Your search is over, your dreams are real, and your future starts here.
Contact AIU today, and discover the refreshingly different approach we'll take to helping you achieve your educational goals.
This information will be used to contact you through various means, which may include, phone, text messaging, email, and postal mail about the programs and services that are offered.
Accreditation
American InterContinental University is regionally accredited by the Higher Learning Commission.
To contact the Higher Learning Commission please visit www.hlcommission.org.
Key Data
Date Established:
1970
School Type:
Online
Degrees Offered:

Associate

Bachelor's

Master's
View our program list