Request information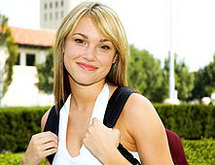 Location
420 W Main St
Danville, VA 24541
Experienced professional? Build your qualifications with practical professional education from Averett University's Graduate and Professional Studies (GPS) programs.
School

Date Established:
1859
School Type:
Campus
Degrees Offered:

Associate

Bachelor's

Graduate Certificate

Master's

Accreditation

Averett University is accredited by the Southern Association of Colleges and Schools

Location
Associate
Bachelor's Degrees
Master's Degrees
Graduate Certificates
150 Years of Education Excellence
Averett University, founded in 1859, has grown and developed along with the needs of higher education students for more than five generations. Our private university in Virginia aims to help traditional and non-traditional students alike reach for big dreams and bold futures through undergraduate and graduate degree programs that prepare them to take on the real-world job market.
Non-traditional students with work experience can pursue bachelor's or master's degrees through our Graduate and Professional Studies programs. We make pursuing your degree fit better with your working life, providing multiple study locations throughout Virginia and class times that take work schedules into account.
Twitter Stream
Averett University's YouTube Channel
Averett University Elsewhere
Request information