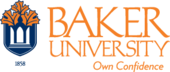 Request information
School

Date Established:
1858†
School Type:
Campus
Degrees Offered:

Associate

Bachelor's

Master's

Students

| | |
| --- | --- |
| Enrolled Students: | 3,853† |
| Student to Faculty Ratio: | 14 to 1† |

Cost

| | |
| --- | --- |
| In State Tuition: | $21,130† |
| Out of State Tuition | $21,130† |
| Books and Supplies | $1,200† |
| Students with Financial aid:** | 100%† |

Accreditation

Baker University is accredited by the Higher Learning Commission†

Location
** Refers to % of students receiving some form of financial aid
† Indicates school information is being used instead of campus information
Associate
Bachelor's Degrees
Master's Degrees
Online
Kansas
Missouri
It started as an attempt to tame the rough Kansas territory more than 150 years ago. It evolved into a comprehensive and highly respected university serving nearly 4,000 students across seven campuses in Kansas and Missouri.
Baker University was chartered on February 12, 1858. Named for Osmon Cleander Baker, a distinguished scholar and bishop of what is now the United Methodist Church, the school holds the honor of being the first university in Kansas.
Baker graduates have gone on to successful careers as writers, scientists, explorers, teachers, business professionals, performers, politicians, academicians, visionaries, trendsetters and more. Four graduates have been named Rhodes Scholars and one has earned a Pulitzer Prize.
Baker University has a rich history within intimate academic settings, filled with traditions, memories and landmarks. In fact, Baker's Baldwin City campus has three buildings on the National Register of Historic Places.
Campus traditions†"academic, professional and social†"have evolved throughout Baker's history. The University has faced adversity, prosperity, tragedy and joy, and through it all, Baker's students and professors have retained a close-knit sense of community. The end result is a highly respected community of higher learning.
Request information