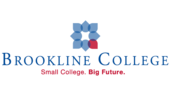 Request information
School

Date Established:
1979
School Type:
Campus
Degrees Offered:

Diploma

Certificate

Associate

Bachelor's

Accreditation

Brookline College's Phoenix, Tucson, Tempe and Albuquerque campuses are accredited by the Accrediting Council for Independent Colleges and Schools (ACICS) to award diplomas, associate's degrees, bachelor's degrees and master's degrees. The Accrediting Council for Independent Colleges and Schools is listed as a nationally recognized accrediting agency by the United States Department of Education and is recognized by the Council for Higher Education Accreditation. Brookline College is licensed in Arizona by the Arizona State Board for Private Postsecondary Education and in New Mexico by the New Mexico Higher Education Department.
Associate
Associate of Science - Criminal Justice
Associate of Science-Paralegal Studies
Diplomas
Diploma - Medical Assistant
Diploma - Medical Insurance Billing and Coding
Diploma - Patient Care Technician
Diploma - Pharmacy Technician
Arizona
Open the Door to Career Opportunities
At Brookline College, we are dedicated to the success of our students. Our in-demand programs have been designed to prepare you for a rewarding new career you love. Since today's student often juggles many responsibilities, we offer convenient day, evening and online courses taught by experienced instructors that will fit your busy schedule. We want you to succeed and will take the time to understand and work with you every step of the way to help reach your goals!
Brookline College offers in-demand diploma and degree programs in:
† Healthcare
† Business
† Nursing
† Criminal Justice
† Paralegal
† Computer Security
Why Brookline College?
† Flexible course scheduling
† Online courses and programs
† Instructors with real-world experience
† Hands-on, career-focused training
† Financial aid available to those who qualify
† Career placement assistance
It's more than just a job. It's your career.
Our More Than One Future program means you can get twice the education and twice the career options without paying twice the tuition. Brookline is so committed to your success that we offer the opportunity to take a second program, tuition FREE*!
Take the first step today by filling out the form below. A friendly advisor will call you shortly to discuss your goals and answer any questions you may have about Brookline College and the programs we offer.
Certain programs may be approved for Department of Veterans Affairs (VA) benefits. Applicants should check with Admissions and/or Financial Aid for program approval at specific campuses.
Brookline College's Online, Phoenix, Tucson, Tempe and Albuquerque campuses are accredited by the Accrediting Council for Independent Colleges and Schools (ACICS).
For more information about our graduate rates, the median debt of students who completed the program, and other important consumer information, please visit http://brooklinecollege.edu/ProgramDisclosures-v1/
*Student and program eligibility for the More Than One Future program are subject to certain terms and conditions contained in the Memorandum of Understanding (MOU), available upon request. Additional non-tuition costs may apply and vary by program. See a staff member for details.
http://www.bls.gov
Request information