DePaul University
Chicago
DePaul University is the nation's largest Catholic university, with over 25,000 students and about 275 degree programs. \r\nOur partnerships throughout Chicago allows DePaul to provide an exceptional educational experience that is vibrant, pragmatic and socially engaged. Classes are small and taught by knowledgeable, experienced faculty members who take advantage of Chicago's corporate, cultural and community resources. \r\nDePaul is nationally recognized for service learning and the academic rigor and prominence of its programs. Founded in 1898 by the Congregation of the Mission (Vincentians), DePaul's tradition of providing a quality education to students from a wide range of backgrounds, with particular attention to first-generation students, has led to one of the nation's most diverse student bodies. \r\nWith eleven colleges and schools, DePaul has campuses in Chicago's Loop and Lincoln Park neighborhoods as well as locations in four Chicago suburbs and degree programs in six nations. DePaul is also part of the BIG EAST Conference in Division I sports.
Key Data
| | |
| --- | --- |
| School Type: | Campus |
| Degrees Offered: | |
Student Life
Enrolled Students:
25,188
Student to Faculty Ratio:
18 to 1
Annual Cost
In State Tuition:
$27,343
Out of State Tuition
$27,343
Books and Supplies
$1,005
Students with Financial aid:**
79%
** Refers to % of students receiving some form of financial aid
Back to campus overview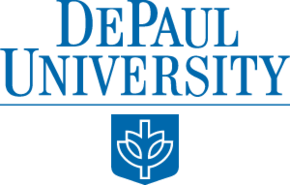 Request information from DePaul University
Complete the form below and DegreeSearch.org will send your information to DePaul University.
Degree Search is not affiliated with DePaul University, but will attempt to send this request on your behalf. Your privacy is important to us. Privacy Policy
If you are affiliated with DePaul University and would like to update the information or learn more about our college directory, please contact us.