George Mason University
According to the school, George Mason University is where innovation is tradition! Mason offers private university quality at a public institution value – at considerably less than what Washington, DC, area private institutions charge for the same access and degrees. Its prime location just outside Washington, DC, makes George Mason University's beautiful residential campus the destination for a diverse student body from all over the world, including all 50 states and 131 countries. Mason offers you all of the excitement and options of a large college campus while providing small class sizes and individual attention from faculty and staff members. Our faculty members are well known leaders in their fields, and you will find them quoted daily in national media – and they routinely welcome undergraduates to actively participate in their research. Innovative undergraduate majors and programs in game design, global affairs, neuroscience, sustainability, and international conflict resolution are just a few examples of the way Mason connects expert faculty with the advantages of location to offer you outstanding academic and extracurricular experiences.\r\n\r\nOpportunities to advance your career abound both inside and outside the classroom, including internships at nationally and internationally recognized companies and organizations, ranging from the Smithsonian National Zoo to the White House. Mason alumni dominate the DC region, and the resulting work and internship opportunities run the gamut: foreign embassies, wildlife reserves, network news programs, and even the Washington Redskins. Mason students lobby Congress on educational issues, pioneer outreach programs for disadvantaged children, and collect oral histories in the U.S. Holocaust Memorial Museum. The prospect of internships, research, and employment here are unmatched anywhere else. Many Mason graduates continue employment with places they interned, or remain in the area to take advantage of the outstanding job market.\r\n\r\nIn addition, Mason has programs in 28 countries, with reciprocal relationships with a number of foreign universities, including universities in Australia, England, France, Germany, China, and Russia. In partnership with Moscow State University, St. Petersburg State University and the Higher School of Economics – top Russian universities – Mason has recently launched several dual-degree programs in areas such as economics, management, and international affairs.\r\n\r\nMason guarantees freshman housing, and nearly all freshmen take advantage of the spectacular residence facilities. A growing institution, Mason is in the midst of a building boom, investing more than $1 billion between 2007 and 2013. In 2008, the university opened a new 40,000 square-foot state-of-the-art sustainable dining facility, designed to exceed "green" standards, with an emphasis on recycling and the use of biodegradable products. New facilities on campus include performing arts facilities, from a new opera house to dance, percussion and orchestra practice space; state-of-the-art recreation and exercise centers; and a hotel and conference center ideal for visiting students and families. More than 200 clubs and organizations join the large array of on-campus activities, which include free tickets to world-renowned artists at the Center for the Arts, as well as NCAA Basketball and nationally touring rock, hip-hop, rap and country concerts at Mason's 10,000-seat Patriot Center.
Key Data
| | |
| --- | --- |
| School Type: | |
| Degrees Offered: | |
Student Life
Enrolled Students:
32,200
Student to Faculty Ratio:
20 to 1
Annual Cost
In State Tuition:
$8,024
Out of State Tuition
$24,008
Books and Supplies
$900
Students with Financial aid:**
60%
** Refers to % of students receiving some form of financial aid
Back to school overview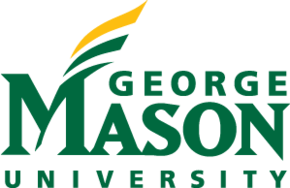 Request information from George Mason University
Complete the form below and DegreeSearch.org will send your information to George Mason University.
Degree Search is not affiliated with George Mason University, but will attempt to send this request on your behalf. Your privacy is important to us. Privacy Policy
If you are affiliated with George Mason University and would like to update the information or learn more about our college directory, please contact us.