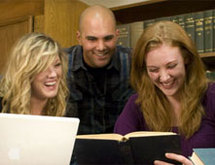 Mid-America Christian University
Mid-America Christian University equips students to impact their world for Christ through achieving Bible-based academic excellence in a Christian environment so that students professionally serve in their chosen vocation/ministry.
The mission statement reflects MACU's stable, historical philosophy of education in the enduring identity and heritage of the University. This mission guides all the purposes, goals, and activities of the University. The mission and purpose of Mid-America Christian University affirm the basic goal to equip men and women for effective Christian ministry, proving that a person does not have to be a pastor or a missionary to have a ministry.
All Christians are called to serve Christ and minister to others. Many graduates exercise this responsibility as pastors and full-time church ministers. However, others are called to serve as musicians, teachers, counselors, or in other ways. The mission statement is congruent with the objectives and purposes of the institution. It continues to be evident in practical application.
Accreditation
Mid-America Christian University is accredited by The Higher Learning Commission.
Key Data
Date Established:
1953
School Type:
Online
Degrees Offered:

Certificate

Associate

Bachelor's

Master's
View our program list