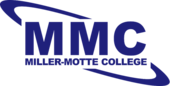 Request information
School

School Type:
Campus
Degrees Offered:

Diploma

Certificate

Associate

Bachelor's

Accreditation

Platt College located in Tulsa, Oklahoma and Platt College branch campuses have been approved by the State of Oklahoma to participate in the National Council for State Authorization Reciprocity Agreements (NC-SARA). NC-SARA is a voluntary, regional approach to state oversight of post-secondary distance education. As a branch of Platt College located in Tulsa, Oklahoma, Miller-Motte College - Wilmington is also approved by NC-SARA.

Miller-Motte College and Miller-Motte Technical College* are accredited by:

Accrediting Commission of Career Schools and Colleges (ACCSC)

2101 Wilson Boulevard, Suite #302

Arlington, VA 22201

(703) 247-4212

www.accsc.org

(*Branch Campuses of Miller-Motte College, Chattanooga, TN)
Associate
Business Administration - Associate of Applied Science
Business Administration - Associate of Occupational Science
Criminal Justice - Associate of Applied Science
Criminal Justice - Associate of Occupational Science
Cyber Security - Associate of Occupational Studies
Dental Assisting - Associate of Applied Science
Early Childhood Education - Associate of Applied Science
Healthcare Information Technology - Associate of Applied Science
Healthcare Information Technology - Associate of Occupational Science
IT Support Specialist - Associate of Occupational Science
Pharmacy Technician - Associate of Applied Science
Surgical Technology - Associate of Applied Science
Certificates
Medical Billing and Coding - Certificate
Medical Clinical Assistant - Certificate
Diplomas
Dental Assisting - Diploma
Medical Billing and Coding - Diploma
Medical Clinical Assistant - Diploma
Medical Clinical Assistant - Diploma
Online
Georgia
North Carolina
South Carolina
Tennessee
Get Career-Relevant Training with Miller-Motte College!
At Miller-Motte College, you can find educational programs that can help you launch a new career. Whether it's in the healthcare field to help the well-being of others or enhancing your business skills, we have programs to match your interests and meet your needs. Our training programs are career-focused and designed to help you gain the knowledge and hands-on training to succeed.
Business
Education
Early Childhood Education
Healthcare
Allied Health Management
Medical Clinical Assistant
Dental Assisting
Medical Billing and Coding
Healthcare Information Technology
Surgical Technology
Pharmacy Technician
Protective Services
Technology
IT Support Specialist
Cyber Security
Our Campuses
Miller-Motte College has eleven convenient locations so you can get the training to start or advance your career. We're located in:
Augusta, GA
Charleston, SC
Chattanooga, TN
Columbus, GA
Conway, SC
Fayetteville, NC
Jacksonville, NC
Macon, GA
Raleigh, NC
Wilmington, NC
These schools are regulated as commercial motor carriers by the US DOT and their respective state agency: NCCCS, GADDS, SCDMV, THEC and VADMV. It takes fewer than 300 hours to complete this program; therefore it is not eligible for Title IV funding.
Request information