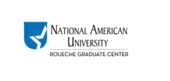 Request information
National American University is about personal development and community. When you choose to attend NAU, you don't just join a group of diverse students and faculty; you join a group of people from all walks of life sharing a unique experience.
School

| | |
| --- | --- |
| School Type: | Campus |
| Degrees Offered: | Master's |

Accreditation

National American University is accredited by the Higher Learning Commission – www.ncahle.org – 800-621-7440. In addition, the following National American University programs are separately accredited or approved by national educational and professional associations.

National American University has received specialized accreditation for its business programs through the International Assembly for Collegiate Business Education (IACBE), located in Lenexa, Kansas, USA. The business programs in the following degrees are accredited by the IACBE:

Master of Business Administration
Master of Business Administration emphasis Accounting
Master of Business Administration emphasis Healthcare Administration
Master of Business Administration emphasis Human Resource Management
Master of Business Administration emphasis International Business
Master of Business Administration emphasis Management
Master of Management
Master of Management emphasis Criminal Justice Management
Master of Management emphasis Healthcare Administration
Master of Management emphasis Human Resource Management
Master of Management emphasis Proprietary Higher Education

The baccalaureate and master's degree programs in nursing at National American University are accredited by the Commission on Collegiate Nursing Education, One Dupont Circle, NW, Suite 530, Washington DC 20036, 202-887-6791.

National American University is registered with the Minnesota Office of Higher Education pursuant to section 136A.61 to 136A.71. Registration is not an endorsement of the institution. Credits earned at the institution may not transfer to all other institutions.

National American University is registered with the Maryland Higher Education Commission, 6 N. Liberty Street, Baltimore, MD 21201. Toll free number 800-974-0203 or 410-767-3301.

National American University is authorized by the Tennessee Higher Education Commission. This authorization must be renewed each year and is based on an evaluation by minimum standards concerning quality of education, ethical business practices, health and safety, and fiscal responsibility.

National American University is regulated by: The Indiana Commission on Proprietary Education, 302 W. Washington St., Room E201, Indianapolis, IN 46204. Toll free number: 1-800-227-5695 or 317-232-1320.

Oregon- This school is a business unit of a corporation authorized by the State of Oregon to offer and confer the academic degree described herein, following a determination that state academic standards will be satisfied under OAR 583-030. Inquiries concerning these standards or the school's approval may be directed to the Office of Degree Authorization, Higher Education Coordinating Commission, 775 Court St. NE, Salem, Oregon 97301.

National American University is authorized by the Washington Higher Education Coordinating Board (HECB) and meets the requirements and minimum educational standards established for degree-granting institutions under the Degree-Granting Institutions Act. This authorization is subject to periodic review and authorizes National American University to offer specific degree programs. The HECB may be contacted for a list of currently authorized programs. Authorization by the HECB does not carry with it an endorsement by the board of the institution or its programs. Any person desiring information about the requirements of the act or the applicability of those requirements to the institution may contact the HECB at P.O. Box 43430, Olympia, WA 98504-3430.

National American University is a member of the Council for Higher Education Accreditation (CHEA).
About National American University
Established in 1941, National American University (NAU) was founded on the vision that everyone has a right to education. NAU is a regionally accredited, proprietary, multi-campus institution of higher learning offering master's degree programs in technical and professional disciplines. NAU opened its first campus in Rapid City, South Dakota, and has since grown to 35 locations throughout the United States. NAU offers master's degree programs in online formats, which provide students increased flexibility to take courses at times convenience to their busy lifestyles.
The goal of earning a master's degree should be defined by you, not by your circumstances. No matter which path you've chosen, a graduate degree can help you advance with your current organization, explore opportunities with a new company, or even start fresh in a new industry. When you earn your master's degree, you're opening new opportunities for career development that can make a difference for you and your family. Through flexible class scheduling, dedicated career advisors and quality programs, NAU strives to provide a caring and supportive learning environment to ensure your success as a student.
Relevant real-world experience
Earning your degree is about more than just pursuing your passions. You want an education that will not only help you reach your goals but also prepare you for success as you move up the career ladder. And because we understand education is only as valuable as your instructor— ours bring real-world experience and success to the classroom and your education.
Personal advising to drive your success
After decades of service to our students, we've learned how to help you succeed. That's why our support starts before you enroll—and continues until graduation day. Let a personal advisor help you find the degree program that matches your career goals.
A university built around your busy schedule
Life is busy. We understand. We provide you with options that make sense for your life with online courses that help you develop, foster, and hone your management skills from day one. We also work hard to make sure you get the credit you deserve by accepting up to 13.5 hours of master's credits earned from other colleges.
Request information