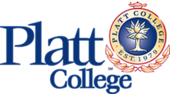 Request information
Platt College has a School of Graphic Design. Platt College has a School of Business & Legal Studies. Platt College has a School of Medical Sciences. No matter what your career aspirations, Platt College offers the education for the career of a lifetime.
School

School Type:
Campus
Degrees Offered:

Diploma

Associate

Accreditation

Platt College located in Tulsa, Oklahoma and Platt College branch campuses have been approved by the State of Oklahoma to participate in the National Council for State Authorization Reciprocity Agreements (NC-SARA). NC-SARA is a voluntary, regional approach to state oversight of post-secondary distance education.
Associate
Practical Nursing - Associate of Occupational Studies
Diplomas
Air Conditioning, Heating and Refrigeration - Diploma
Business Studies - Diploma
Combination Welding - Diploma
Dental Assistant - Diploma
Dental Assisting - Diploma
Medical Assisting - Diploma
Get Career-Relevant Training with Platt!
At Platt College, we encourage our students to follow their passions, wherever they may lie, to find a career they love. You'll find a supportive learning environment and career-focused training designed to help you gain the knowledge and hands-on training to succeed.
Business
Health Care & Wellness
Dental Assisting
Medical Assisting
Practical Nursing
Skilled Trades
Air Conditioning, Heating and Refrigeration
Combination Welding
Our Campuses
Platt College offers four convenient locations to get the training to start or advance your career. We're located in:
Platt College – Tulsa
3801 S. Sheridan Rd.
Tulsa, OK 74145
918.663.9000
Platt College – Lawton
111 SW C Ave.
Lawton, OK 73501
580.215.7050
Platt College – Moore
201 N. Eastern Ave.
Moore, OK 73160
405.912.3260
Platt College – Oklahoma City North
2727 W. Memorial Rd.
Oklahoma City, OK 73134
405.749.2433
Request information