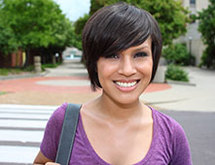 Rasmussen College
22 Campuses
Rasmussen College offers Flex Choice® Learning Options, which means you can choose your blend of traditional courses and online, self-directed assessments at the Associate's degree level. In our School of Business Bachelor's degrees, take advantage of competency based education (CBE), which focuses on efficiency and relevancy by combining self-paced courses, project-based assessments, and real-world scenarios.
*Additional savings can be attained by completing available self-directed assessments.
Accreditation
Rasmussen College is Accredited by the Higher Learning Commission. www.ncahlc.org 800-621-7440.
Key Data
School Type:
Campus
Degrees Offered:

Diploma

Certificate

Associate

Bachelor's

Master's
View our program list