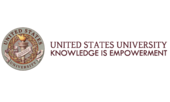 Request information
School

School Type:
Online, Campus
Degrees Offered:

Certificate

Bachelor's

Master's

Accreditation

Accredited by the Accrediting Commission for Senior Colleges and Universities of the Western Association of Schools and Colleges (WASC)
The Entry Level Nursing/Family Nurse Practitioner Program is approved by the California Board of Registered Nursing
The Teacher Credential Programs are Programmatically Accredited by the California Commission on Teacher Credentialing
"The Master of Science in Nursing at United States University is accredited by the Commission on Collegiate Nursing Education, One Dupont Circle, NW, Suite 530, Washington DC 20036, 202-887-6791."
Bachelor's Degrees
Master's Degrees
MSN
MSN-Family Nurse Practitioner
Certificates
Online
California
Why USU?
We've kept tuition and class size low while growing our commitments to diversity and community – it's all part of our student-centered education.
Whether you're starting or continuing your college education, you need the support of your family, friends, employers, and – most importantly – your university. At USU, we pride ourselves on the principles of a student-centered education – an education in which the entire university community is dedicated to the success of each and every student.
We demonstrate this dedication through small class sizes that ensure no student is left behind, affordable tuition rates that make education accessible to people of all classes and nationalities, and a diverse student body that promotes inclusiveness and understanding in the classroom, community, and world.
USU offers degree and certificate programs through our Southern California campus and online classrooms. Admission is available year round, whenever you're ready to get started!
For information about graduation rates, median debt of students who completed this program, and other important information: http://www.usuniversity.edu/gainful-employment-disclosures/
Request information