Request information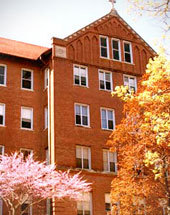 Location
8620 Spectrum Center Blvd.
San Diego, CA 92123
The University of Arizona Global Campus Mission: The mission of The University of Arizona Global Campus is to provide high-quality, accessible, affordable, and innovative, educational programs that meet the diverse needs of individuals pursuing advancement in their lives, professions, and communities.
School

School Type:
Online
Degrees Offered:

Associate

Bachelor's

Master's

Doctoral

Accreditation

The University of Arizona Global Campus (formerly Ashford University) is accredited by WASC Senior College and University Commission (WSCUC), 1001 Marina Village Parkway, Suite 402, Alameda, CA 94501
For program disclosure information, please visit: https://www.ashford.edu/online-degrees/program-disclosures
Certain degree programs may not be available in all states.
Associate
Bachelor's Degrees
Master's Degrees
Doctoral Degrees
Ashford University is now the UAGC. Our unique online platform allows you to fit education into your busy lifestyle.
Your education on your terms. At UAGC, you have the flexibility of getting a quality education all from your computer. With classes starting weekly, shorter courses, and the ability to take one class at a time, you can learn at your convenience, where and when you're able.
Learn online without compromise. We're a student-focused university that combines leading technology with expert educators to make high-quality education accessible to everyone. Our courses are built for online learning—we use tools like Constellation and Canvas to make the experience as clear and simple as possible, and our faculty has the professional background to effectively teach remotely.
We're committed to supporting you. UAGC will help you earn your degree with an abundance of support and guidance—from application through graduation and beyond. Our enrollment advisors walk you through the application process and, once enrolled, you will be paired with a dedicated academic advisor to ensure you're never alone in your university experience. We also provide unlimited access to our Writing Center, Career Services, Online Library, 24/7 tech support, free tutoring, free access to Grammarly Premium, and many other resources to help you succeed.
Your goals are our goals. Across our 50+ degree programs, one thing remains the same—you'll learn the skills that may open up new career opportunities. Our programs are taught by expert faculty with real-world experience. Expand your employment opportunities with an undergraduate or graduate degree relevant to your career goals.
Enjoy the best of both worlds. UAGC offers the depth of knowledge and quality of instruction found in many of the top universities across the country, along with the flexibility, pace, and personalization only an online education can provide. We know that life is busy and fast-moving, so we've designed higher education with you in mind.
Twitter Stream
The University of Arizona Global Campus's YouTube Channel
Request information