Request information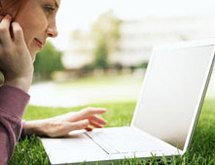 Location
19700 S. Vermont Avenue, Suite 100
Torrance, CA 90502
Westwood College is an institution of higher learning founded in Denver, Colorado in 1953. Today, Westwood has 14 campuses across California, Colorado, Georgia, Illinois and Virginia and an online campus. Westwood offers a unique hands-on, career-focused curriculum providing three-year bachelor's degrees in high-growth fields. To date, over 30,000 Westwood graduates have transformed their lives by obtaining the skills, tools, experience and connections necessary to achieve meaningful careers.
School

Date Established:
1953
School Type:
Campus
Degrees Offered:

Diploma

Associate

Bachelor's

Master's

Accreditation

All Westwood College campuses are nationally accredited by the Accrediting Council for Independent Colleges and Schools (ACICS).
California
Colorado
Georgia
Illinois
Virginia
Why Westwood?
A degree in as little as 17 months. A lifetime to take full advantage of it.
You have a dream, and we'll put you on the fast track to achieving it. Our degree programs provide you with the knowledge, tools and support you need to earn your associate degree in as little as 17 months, your bachelor's degree in as little as three years, or your master's degree in just over a year. By offering year-round classes focused on the most critical skills needed to start or advance your career, you can complete your coursework in less time than students at traditional schools.
Develop your skills with career-focused classes.
We understand that what you want from your education is to improve your career options, and we help you act on that goal from the very beginning. At Westwood, you won't spend two years waiting to get into the classes that matter most to you and your future.
Learn what you need to know. Meet who you need to know.
Instead of merely learning from lectures, you learn by actually doing what you've come here to do. Our instructors are industry-experienced professionals in their fields who will mentor you and teach you what you need to know to succeed in your career. Our small class sizes also promote one-on-one interaction so you'll never get lost in the crowd.
Daytime, evening or online – we make sure our schedule meets your schedule.
We know you live a busy life. That's why many Westwood classes are available during the day, evening and even online, so you can balance school with the rest of your life.¹ With 14 locations in five states plus flexible online learning options, there's little to keep you from starting your career by earning a degree from Westwood College.
We take your success as seriously as you do.
Inside and outside of the classroom, Westwood is dedicated to helping you succeed in ways you may not find anywhere else. It begins with our Quick Start℠ process, which is designed to help make your transition into college fast and easy. Once you're enrolled, you'll be assigned a dedicated Westwood Success Team℠ – a team of advisors who'll help answer enrollment questions, sort through student financing options and guide you throughout your Westwood experience. We even offer tuition-free tutoring to every Westwood student, in every subject. Even after you graduate and start your career, we're still here for you, offering tuition-free graduate retraining in your field of study to help keep you current on the latest tools and technology.²
We're changing the definition of what a college can be.
If you're looking for an education that breaks the mold, we encourage you to schedule a campus visit, where you can learn more about the advantages of a Westwood education in person. You can sit in on a class, meet our faculty and our students and sample the Westwood experience first-hand.
Program names, course topics and outcomes may vary by location. Please speak with a Westwood College admissions representative for full program details.
¹While Westwood strives to accommodate a variety of schedules, we cannot guarantee the ability to work around every student's schedule.
²Participating in the Westwood Alumni Retraining program is tuition-free for qualified graduates. Additional costs such as online lab fees, books, and supplies are the responsibility of the student. Retraining is limited to the program from which the student graduated and is subject to space availability.

Westwood College Privacy Policy & Disclaimers
Subject to students meeting admissions placement requirements
All Westwood College campuses are nationally accredited by the Accrediting Council for Independent Colleges and Schools (ACICS).
Information about on-time graduation and placement rates, median loan debt, tuition and fees, and related Standard Occupational Codes (SOC) can be found here: http://www.westwood.edu/media/files/pdf/WestwoodCollegeProgramDisclosures.pdf
Westwood College – Annandale (Annandale, VA) and Westwood College – Arlington Ballston (Arlington, VA), have been certified to operate in Virginia by the State Council of Higher Education for Virginia (SCHEV). Westwood College – River Oaks is authorized by the Indiana Board for Proprietary Education, 101 West Ohio Street, Suite 670, Indianapolis, IN 46204-1984. All Westwood College institutions are nationally accredited by the Accrediting Council for Independent Colleges and Schools (ACICS). Westwood College – Online is approved to award associate, bachelor's and master's degrees by the Colorado Department of Higher Education. All Westwood College – Online degrees are conferred in accordance with Colorado statutes. The Colorado Department of Higher Education regulates Westwood College – Online and all students enrolling in Westwood College – Online are enrolled under the Colorado Department of Higher Education's requirements. All students, regardless of their state of origin, will receive the same protections as Colorado state residents. Westwood College – Online will respond to all requests initiated by prospective students for information about online programs. Online programs are not available to residents of all states. Call 800-281-2978 or visit www.westwood.edu/locations for available locations. Westwood College – Online is not regulated under Chapter 132 of the Texas Education Code. Not all programs available at all institutions. For important program disclosure information, including salary information, job titles and employers of our graduates, as well as information about median loan debt and potential occupations from the Department of Education, visit westwood.edu/disclosures. ©2015 Alta Colleges, Inc.
Request information