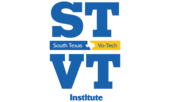 Request information
School

| | |
| --- | --- |
| School Type: | Campus |
| Degrees Offered: | Diploma |

Accreditation

South Texas Vo-Tech is approved and regulated by:
Texas Workforce Commission
Career Schools and Colleges
101 East 15th St., Rm. 226T
Austin, Texas 78778-0001
(512) 936-3100

South Texas Vo-Tech campuses in Weslaco and Brownsville are accredited by:
The Council on Occupational Education (COE)
7840 Roswell Road Building 300, Suite 325
Atlanta, GA 30350
(770) 396-3898 Fax (770) 396-3790
www.council.org

• 2144 Central Blvd.
Brownsville, TX 78520
(Branch of Weslaco, TX Campus)

• 2419 E. Haggar Ave.
Weslaco, TX 78599

South Texas Vo-Tech campuses in Corpus Christi, McAllen, and San Antonio are accredited by:
Accrediting Commission of Career Schools and Colleges (ACCSC)
2101 Wilson Boulevard, Suite #302
Arlington, VA 22201
(703) 247-4212
www.ACCSC.org

• 734 SE Military Drive
San Antonio, TX 78214
(Branch of Platt College, Tulsa, OK Campus)

• 2000 S. Padre Island Dr.
Corpus Christi, TX 78416
(Branch of Platt College, Tulsa, OK Campus)

• 2400 Daffodil Avenue
McAllen, TX 78501
(Branch of Platt College, Tulsa, OK Campus)

The Professional Massage Therapy Program for Brownsville & McAllen are approved and regulated by Texas Department of State Health Services (DSHS) - DSHS license #MS1045.†
† Indicates school information is being used instead of campus information
Diplomas
Medical Assisting - Diploma
Professional Massage Therapy - Diploma
We Are Focused On Your Success!
At South Texas Vocational Technical Institute (STVT), we are focused on one thing – preparing you for the career you want by providing you with the skills and knowledge you need. You'll find a supportive learning environment and career-focused training that is designed to help you gain the knowledge and hands-on training you need to succeed.
Business
Computer Accounting Specialist
Health Care & Wellness
Dental Assisting
Medical Administrative Assisting Technology
Medical Assisting
Professional Massage Therapy
Skilled Trades
Air Conditioning, Heating and Refrigeration
Automotive Service Technician
Combination Welding
Diesel-Heavy Truck
Our Campuses
STVT offers five convenient locations to get the training you need to start or advance your career. We're located in:
STVT – Brownsville
2144 Central Blvd.
Brownsville, TX 78520
888.822.4046
STVT – Corpus Christi
2000 S Padre Island Dr.
Corpus Christi, TX 78416
888.822.4046
STVT – McAllen
2400 W Daffodil Ave.
McAllen, TX 78501
888.822.4046
STVT – San Antonio
734 SE Military Dr.
San Antonio, TX 78214
888.822.4046
STVT – Weslaco
2419 E Haggar Ave.
Weslaco, TX 78599
888.822.4046
a. For important information about the educational debt, earnings, and completion rates of students who attended this program please visit: http://www.stvt.edu/stvt-disclosures.
Request information