Request information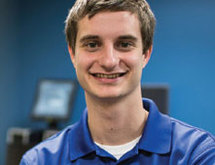 Location
2521 Pennington Drive NW
Rochester, MN 55901
School

School Type:
Campus
Degrees Offered:

Diploma

Certificate

Associate

Bachelor's

Accreditation

Globe University/Minnesota School of Business is accredited by Accrediting Council for Independent Colleges and Schools to award doctoral degrees, master's degrees, bachelor of fine arts degrees, bachelor of science degrees, associate in applied science degrees and diplomas.†
† Indicates school information is being used instead of campus information
At Minnesota School of Business, our No. 1 goal is to help you achieve your personal and professional goals. This has been our mission since 1877. So our formula is time-tested and simple: small classes, hands-on learning and personal attention.
We are constantly updating our 40-plus college degree programs to ensure you're getting the skills employers want. Whichever career path you choose – from business and IT to health and legal science – you'll learn from instructors with industry expertise and ties to local business. And applied learning experiences will immerse you in real-world scenarios – in and out of the classroom.
Programs may vary by campus. For more information about our on-time completion rates, job-placement rates, the median debt of students who completed the program, and other important information, please click here.
Request information