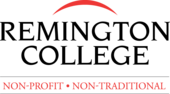 Request information
School

School Type:
Campus
Degrees Offered:

Diploma

Associate

Bachelor's

Accreditation

For Disclosures of Tuition Costs, On Time Graduation Rates, Median Loan Debt, Placement Rates and Occupational Information, click here.

†
† Indicates school information is being used instead of campus information
Associate
Business Administration: Bookkeeping
Business Administration: Executive Assistant
Business Administration: Marketing & Sales
Clinical Medical Assisting
Criminal Justice - Associates
Bachelor's Degrees
Criminal Justice - Bachelor
Organizational Management
Diplomas
Alabama
Arkansas
Hawaii
Louisiana
Ohio
South Carolina
Tennessee
Texas
At Remington College campuses, we offer a variety of educational programs.
While no reputable school can guarantee employment after graduation, our programs are designed with an emphasis on helping students to prepare for entry-level employment in various career fields.
This combination of traditional teaching methods along with practical classroom experience provides an opportunity for students to apply and practice their knowledge and skills.
Not sure which program is right for you? Remington College understands that choosing a career path can be stressful for some students. That's why we have admissions staff available to students in order to help them find an area of study that is right for them.
Some programs that may be available in your area:
• Business
• Criminal Justice
• Culinary Arts
• Health Care
• Cosmetology
Why choose Remington College?
• Small class sizes
• Day or evening classes in select programs
• Career focused educational programs
• Financial aid available for those who qualify
• Established in 1985
Simply fill out the form to receive more information about Remington College.
For Disclosures of Tuition Costs, On Time Graduation Rates, Median Loan Debt, Placement Rates and Occupational Information, click here.
Request information