Request information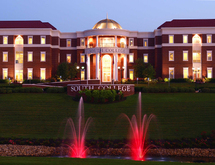 Location
4901 Vineland Road Suite 140
Orlando, FL 32811
School

School Type:
Campus
Degrees Offered:

Certificate

Associate

Bachelor's

Accreditation

South College is accredited by the Southern Association of Colleges and Schools Commission on Colleges to award degrees at the doctorate, master's, baccalaureate, associate and certificate levels.†
† Indicates school information is being used instead of campus information
Associate
A.S. - Health Science
A.S. - Health Science (Pre-Nursing)
A.S. - Health Science (Pre-Pharmacy)
A.S. - Medical Assisting Advanced
Bachelor's Degrees
B.S. - Health Science
B.S. - Health Science (Pre-Physical Therapy)
B.S. - Health Science (Pre-Physician Assistant)
Certificates
Certificate - Medical Assisting Specialist
Online
Florida
Georgia
Indiana
North Carolina
Pennsylvania
Tennessee
At South College we welcome students from all different stages of life and career. Whether you are pursing a degree for the first time, going back to school as an adult learner, or furthering your career with an advanced degree, our faculty and staff will partner with you to give your dreams direction.
Enjoy a small college environment with a variety of educational programs and courses offered at varying times including day, evening, and Saturday classes, with select courses offered online.
At South College, the primary goal of each curriculum is to prepare students to pursue the career of their choice. Students will find challenging courses provided in a supportive atmosphere.
For more information on graduation rates, median debt of graduates and other important information visit www.southcollegetn.edu
Request information