Request information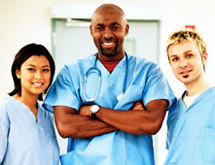 Location
1218 Court St Ste C
Clearwater, FL 33756
Ultimate Medical Academy is committed to helping you succeed in a healthcare career. That's why we offer assistance from the very beginning, throughout training, and even after you graduate. One-on-one tutoring, pre-interview coaching, job search assistance, alumni services – they're all included in our competitively priced tuition.
School

School Type:
Online
Degrees Offered:

Diploma

Associate

Accreditation

Institutionally Accredited by the Accrediting Bureau of Health Education Schools (ABHES)
Online
Change your life!
UMA will be here every step of the way.
Ultimate Medical Academy is a nonprofit healthcare career school committed to helping you succeed. We offer flexible online courses to prepare you for a healthcare career on your schedule, and our advisors are here to support you throughout your education and beyond!
Once you enroll, you'll receive individualized student services like:
Flexible online learning
Academic support
Access to one-on-one and group tutoring
A dedicated advisor to help with life's challenges
24/7 technical support
Certification prep for applicable programs
Job interview coaching
Job search assistance
UMA's Online Associate Degree Program Offerings
Our curriculum is tailored the meet the needs of the healthcare industry. That means you can be prepared to pursue entry-level roles once your graduate! Applicable UMA programs also prepare students to sit for relevant certification exams.
Our online programs include:
Health and Human Services
Health Information Technology
Healthcare Management
Health Sciences – Pharmacy Technician
Medical Administrative Assistant
Medical Billing and Coding
Medical Office and Billing Specialist
A History of Education
Since 1994, UMA has educated thousands of students across the nation at our online and Clearwater, FL campuses. With an alumni population of more than 50,000, UMA offers extensive services to help students graduate and pursue careers in the growing field of healthcare. UMA is Institutionally Accredited by the Accrediting Bureau of Health Education Schools (ABHES).
We can help you begin your education today!
A criminal background check is an enrollment requirement at Ultimate Medical Academy.

Request information