Mechanics
Online mechanics degrees from accredited universities and schools.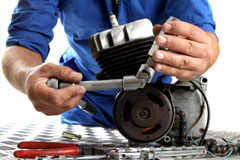 What is Mechanics?
Mechanics is the branch of the physical sciences that deals with the interaction of energy and forces on physical bodies. The application of a degree in mechanics may include design, development, maintenance, repair or operation of aircraft, automobiles, small engines, industrial machinery, diesel engines, heating and air conditioning equipment, heavy equipment, etc.
Mechanics Degrees
Education in mechanics includes courses in mechanical drawing, reading of blueprints, math, computers, electronics and other subjects such as avionics, diesel engines or refrigeration that relate to specific applications of mechanics. Mechanical aptitude is important as well as manual dexterity in many applications of mechanics. An associate degree generally qualifies one to work with heating and air conditioning, small engines, appliances, automobiles and some larger equipment. Higher degrees are often required to work with larger and more sophisticated equipment or a mechanical engineering degree may be appropriate. The path you choose will, of course, depend on your overall goals and availability of time and financial resources
Job Opportunities with a Mechanics Degree.
According to the U.S. Department of Labor, job opportunities with small engines, automobiles and aircraft are expected to increase at about the same rate as the average for all occupations over the next few years. Heating, air conditioning and refrigeration jobs are expected to grow faster than average. Industrial and heavy equipment job production is expected to be slower. In 2004, the median hourly rate for small engine mechanics was about $13; for aircraft technicians, $21.77; industrial machinery, $18.78; heavy vehicles, $18.34; heating and air conditioning $17.43; automobiles $15.60. The average salary for draftsmen was $39,190.