Education
Online degrees and programs in education leadership, secondary education, teaching and more from accredited schools and universities.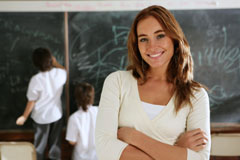 What is Education?
Education is extensive in its meaning, ranging from formal learning to the building of understanding and knowledge through day to day experiences. Education is not an exact science and can be experienced through formalized schooling systems, teaching, vocational training, and more. Professions in the educational sphere entail several opportunities and accommodate persons of all ages, backgrounds, and interests. The primary responsibility of educators is to provide those they teach with the knowledge that will help them to better serve their communities now and in the future.
Education is an on-going, lifelong process. Education focuses on the applied principles and guidelines in order to understand and improve the methods of teaching and learning. From a kindergarten teacher to a university counselor, the educational realm offers ample opportunities for those interested in influencing the children of tomorrow, today.
Degrees in Education
Positions in education are extensive and opportunistic, however, since most professions in this field are accommodating to teachers, a four-year bachelor's degree in an associated field is required. Administrative positions also require a bachelor's degree, but in may instances employers require a master's or other advanced degree. With the evolving educational methods and programs, continuing education and seminars are considered a part of the on-going training for teachers, counselors, and administrators.
The opportunities to receive a degree in education are no longer limited to brick and mortar colleges and universities. Education related programs and courses can now be found anywhere there is an Internet connection, making it accessible to just about everyone.
Online degrees in education will give you the skills and mind set that are essential in the everyday duties of your desired career path. Whether you are new to the field or looking to advance your current situation, there is a degree program that will help aide you in making a good career choice. To understand what degree or program you should pursue it is important that you research the field of study that most interests you and select a school or university to attend based upon proper accreditation and program placement.
Job Opportunities in Education
Opportunities in adult education, curriculum design, distance education, K-12 teaching, and other administrative positions are just a handful of the career options available. A degree is a must in this field and the more training and experience you have, the greater opportunities you have for advancement in the future.
According to the U.S. Department of Labor, jobs in education will continue to increase faster than average for all occupations through the next several years. In fact, median annual earnings of kindergarten, elementary, middle, and secondary school teachers ranged from $41,400 to $45,920 in May 2004 and the top 10 percent earned between $66,240 and $71,370.