Accounting
Online accounting degrees from accredited universities and schools.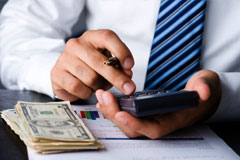 What is Accounting?
If recording, measuring and interpreting financial data is something you enjoy, then perhaps an online bachelor degree in accounting will guide you to a fulfilling career choice. Accounting is referred to as "the language of business" because of its role in processing important financial information for a given business or entity. Accountants' primary responsibility is to gather data measuring the performance of a company, evaluating its financial position and paying taxes. Accountants are responsible for preparing financial statements such as income reports, balance sheets and cash flows. If this is something that interests you, be sure to look into an online bachelor degree in accounting to get your career off to a right start.
Accounting Degrees
With the complexity involved in many accounting practices, most employers require at least a four-year bachelor's degree in some type of accounting or bookkeeping program. At the center of the accounting profession is the Certified Public Accountant (CPA). CPAs services include accounting, auditing, income tax planning and reporting, and management consulting. Since CPA designation has become the standard in the accounting industry, it should be noted that certification usually requires 30 credit hours (typically one year) of additional coursework outside of the average 120 credit hours (typically four years) it takes to earn a bachelor's degree.
Job Opportunities in Accounting
With the steady growth in the economy, business expansion worldwide, and the stress placed upon companies to operate within specific guidelines and applicable laws, the need for accountants and other financial professionals is on the rise. According to the U.S. Department of Labor, jobs related to the accounting field will increase faster than the national average for most other professions. Entry-level workers in small firms can expect salaries to jump 5.1 percent, making starting salaries fall in the $38,000 to $44,000 range. Mid-size companies looking for senior manager and directors can expect to pay between $82,000 and $120,000, a 7.6 percent jump.