Adult Education
Online adult education courses and degrees from accredited universities and schools.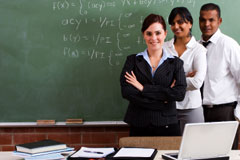 What is Adult Education?
Adult education is provided for persons who are beyond the normal age for secondary school (high school) but for one or more reasons have not completed the secondary level of education. This education may take the form of remedial or refresher courses in areas such as reading, math, language and other basic skills. Many jobs require that an applicant has graduated, or if not, has passed the General Educational Development (GED) exam. Many adult education courses are geared toward preparation for the GED exam.
Adult Education Courses
If you are an adult seeking additional instruction in skills such as reading, math or language or if your goal is to complete the GED or equivalent exam, check out the courses available at our affiliated schools and universities. Very soon you can enjoy the benefit of improved employment opportunities that result from this effort.
Adult Education Degrees
Degrees in adult education prepare one with the knowledge and skills to teach those who are seeking improvement in the basic skills normally provided during a successfully completed high school education or who are learning English as a second language or who are preparing to take a high school equivalence test such as the GED exam. The requirements for adult education are determined by various state and local programs. "Most States require teachers in these programs to have some form of credential; the most common are a public school teacher license, an adult education credential, or both. However, programs in States that do not have these requirements still generally require that adult education teachers have at least a bachelor's degree and, preferably, a master's degree," according to the Department of Labor.
Job Opportunities in Adult Education
Opportunities for adult literacy and remedial education teachers are expected to be favorable over the next few years. Jobs in this area are expected to grow on a pace near that of most other professions. The median hourly earnings is expected to be in the $20 to $25 range.