Associate Degree: Is it Right for You?
An associate's degree is a two year college degree program that can help kick start you into a rewarding career. If you have limited resources and time, but desire to get a college education, then perhaps an associate degree is the answer for you.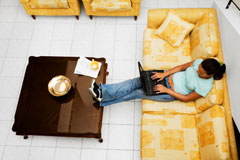 Are you a high school graduate whose application to attend a four-year college or university has been turned down because your GPA or standardized tests scores were too low to meet minimum entrance requirements? Do you have personal obligations that prevent you from pursuing an online bachelor's degree? Do you need the ability to earn more money; but, find your job opportunities limited by your lack of higher education? Do you want to begin your career as soon as possible? If you answer yes to any of these questions then an associate's degree might be the right choice for you.
Advantages of Pursuing an Associate's Degree
An online associates degree is a two-year college degree program. It has some advantages over the traditional four-year degree. Here are a few:
The entrance requirements are lower. If you have been turned down by four-year colleges, but still want to get your bachelor's degree then starting at a community or junior college can be the answer. The two years spent pursuing an associate's degree will give you the opportunity to raise your grades and improve your test scores. Many of these schools offer remedial classes. Some even allow you to complete your high school diploma while you are taking the classes that apply toward your associate's degree.
Costs are lower. Because it only takes two years to complete an associate's degree instead of the four it takes for a bachelor's degree, costs are lower.
There is more scheduling flexibility with an associate's degree. Many community and junior colleges offer long distance classes. There are also many associate degree programs offered online.
With an associate's degree you can begin a career in less time than with a bachelor's degree. Many associate degree programs are geared towards the career. All the classes taken are designed to prepare you for the career of your choice. Unlike a bachelor's degree, which requires that you pursue general education classes first.
Careers with an Associate's Degree
As associate's degree can prepare you for a wide variety of career opportunities. In the medical field you can become a respiratory therapist, an x-ray technician, a certified nurse's assistant, a medical office receptionist or a licensed practical nurse. In computer sciences, you can become a computer tech or computer programmer. In business, you can become an administrative assistant or an office manager. These are just a few of the opportunities available to holder's of an associate's degree.
Holding an associate's degree gives you advantages over those who hold only a high school diploma. You have ability to earn more money. More job opportunities are available to you. If you are applying for the same job as a person with only a high school diploma your degree might just give you the edge you need to get the job.
Financial assistance is available if your institution is accredited. Some job incentive programs like those attached with public assistance also may pay for your 2 year degree.
An associate's degree might be the answer for you if you have been denied entrance into a four-year degree program; have personal obligations preventing you from going after a bachelor's degree or if you want to be on the fast track to your new career
By Cynthia Harlan, a writer at Helium.com