Business Administration
Online business administration degrees from accredited universities and schools.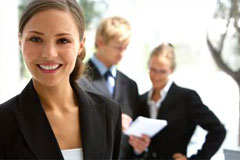 What is Business Administration?
Our world economy thrives on the existence and successful operation of businesses, from single proprietorships to mammoth national and international corporations. Business administration involves the employment of leadership and management skills to ensure that an enterprise, whatever its size, is able to fulfill its financial, moral or other goals. In order to compete on any level of business, it is essential that business administrators be armed with the knowledge and skills that are up-to-date and viable in our competitive and complex environment.
Business Administration Degrees
Training for this field involves the study of a broad range of subjects including economics, financial analysis, accounting, information technology, marketing, public relations and a myriad of other subjects pertinent to the successful operation of a an enterprise. An associate degree provides the essential knowledge and background to launch a successful career in many cases although many employers require at least a bachelor degree and some prefer the MBA (Master of Business Administration.)
Job Opportunities in Business Administration
A degree in Business Administration can provide almost unlimited career opportunities in today's world. Every enterprise requires some type of management, from chief executives to financial managers to construction managers and post masters. According to the U.S. Department of Labor, jobs in this category are expected to increase on average as fast as most other professions. The increasing need for business expertise as a result of regulatory reforms and the expansion of the economy will drive job growth over the next decade. As the economy expands, both the growth of established companies and the creation of new businesses will spur demand for business managers. The mean annual wage for this employment category is $88,450.