Business Management
Online business management degrees from accredited universities and schools.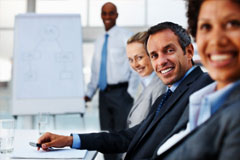 What is Business Management?
Business management refers to the process by which organizations implement various strategies to accomplish their intended goals. Whether it's a business, a non-profit group, or a city council, management focuses on key areas of planning, organizing, directing, and controlling. Understanding these responsibilities, managers should be adept at defining business objectives, supervising employees, solving problems, and allocating responsibilities to others within the organization.
Degrees in Business Management
An associate degree in a business related field can provide the essential knowledge and training to launch a successful career although many employers require at least a bachelor's degree and often an MBA (Master of Business Administration.) Training for this field involves the study of a broad range of subjects including economics, financial analysis, accounting, information technology, marketing, public relations and a myriad of other subjects pertinent to the successful operation of a an enterprise.
Job Opportunities in Business Management
A degree in Business Management can provide for numerous career opportunities in today's world of expanding business entities. Every enterprise requires some type of management, from chief executives and financial managers to construction and promotions managers. According to the U.S. Department of Labor, jobs in this field are expected to increase on average as fast as most other professions. The increasing need for business expertise as a result of regulatory reforms and the expansion of the economy will drive job growth over the next decade. The USDL reports an annual mean salary of $88,450 for related managerial positions with potential earning power of up to six digits.