Complete Your Bachelor's Degree Online
Completing your college degree program through an accredited online college is in many cases the best option for working adults to finish their education.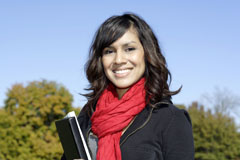 Bachelor's Degree Online: A Viable Option
Are you an adult who left school before finishing your bachelor's degree? Have you thought about going back, but are not sure how to fit it in with your life and your adult responsibilities? As an adult, returning to school can be difficult in many ways. Time commitments, family and financial responsibilities, and other activities make it hard to find the time or the money to go back to school. To make it even more difficult, as we age our brains function differently, and traditionally may not work as well on us as they did when we were younger.
One option for adults is to get an online bachelor's degree. In many cases, this is more realistic than returning to a traditional school, to the "halls of ivy," as it were. Online colleges teach differently, using what is often referred to as "asynchronous" learning. That means you are not tied to a particular schedule and don't have to be in a class room at a certain time. You can participate in class whenever your schedule allows.
Advantages to Pursuing a Bachelor's Degree Online
Most programs offering a bachelor's degree online have options for accelerated learning, which means you can complete your degree in as little as two years. Think of the savings if you could cut your college costs in half. It also gives you back two years of your life. Put a price on that!
One major advantage of online bachelor degree programs is that they are tailored more towards the way adults learn. Adult students are disciplined and motivated, and are studying because they want to, not because they have to. They have specific goals to meet and are not interested in wasting time or money.
Adults have a greater ability to learn independently. They have skills in finding information and assimilating it into usable packages. They do not want to "learn for the sake of learning," but would rather apply their education to their personal and career goals. They like their learning experiences to be practical and applicable to their old lives.
One area challenging to online education programs is the fact that adults learn well in teams and small groups. In order to deal with this, most programs include some group learning opportunities. Online education programs apply technology creatively, using forums, chats, teleconferences and other technology to simulate face-to-face interaction. Programs with multiple students in the same local area may have actual get-togethers to help reinforce the learning.
Getting a bachelor's degree online is a great option for many adults, and can be faster and cheaper than returning to a "normal" college to get the same degree. Online education programs, which apply adult learning principles have created great opportunities for adults to complete their college education in a user-friendly way.