Continuing Education
Online continuing education courses and degrees from accredited universities and schools.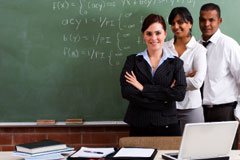 What is Continuing Education?
Continuing education is provided for adults who are seeking additional knowledge or skills for personal improvement. The choice of courses is usually based on the interests of the student rather than the requirements of a particular degree or certification program. Courses include almost unlimited subjects, such as foreign languages, personal finances, taxes, golf and tennis, karate, computer programs and photography. Continuing education should not be confused with adult education, which is usually intended to provide remedial education in basic skills or training to prepare for high school equivalency exams.
Continuing Education Courses
If you are an adult seeking additional knowledge or skills for personal improvement, check out the courses available at our affiliated schools and universities. Very soon you can benefit from the enjoyment and satisfaction that such additional learning can provide, whether it be the ability to communicate better as you visit a foreign country, play better game of golf or take better advantage of the capabilities of your computer.
Continuing Education Degrees
The qualifications to become an instructor in continuing education do not usually require a degree in continuing education per se. In fact, the availability of such a degree is very limited. Since the subject matter of continuing education is so varied, a degree in nearly any subject along with the appropriate teaching skills could qualify one to give instruction, assuming there is a general interest that subject. Training and background in teaching is normally an advantage. Browse through the degree offerings, pinpoint one that is exciting to you in a subject area that you would enjoy teaching to others and go for it!
Job Opportunities in Continuing Education
Opportunities for jobs and earnings potential for continuing education instructors can vary greatly depending on the subject area, the locality, and the particular educational entity with which you are able to affiliate. The U.S. Department of labor indicates, "Employment of self-enrichment education teachers is expected to grow faster than the average for all occupations over the next few years. A large number of job openings is expected, due to both the growth of the occupation as well as to many existing teachers retiring or leaving their jobs for other reasons." In 2004, the average hourly rate for this group was about $15.