Corrections
Online corrections degrees from accredited universities and schools.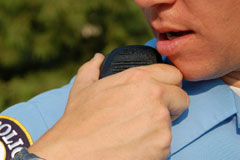 What is Corrections?
The component of the criminal justice system that is responsible for handling the punishment, rehabilitation, probation and parole of criminal offenders is called Corrections. Jobs include correctional officers, bailiffs, probation officers and correctional treatment specialists. Corrections personnel oversee individuals who have been arrested and are awaiting trial or who have been convicted and sentenced to serve time in a penal institution. They are also responsible to maintain security and management of inmates to prevent disturbances, assaults, and escapes.
Corrections Degrees
Degrees in Corrections provide training in law enforcement and criminal justice and instruction in a number of subjects, including institutional policies, regulations, and operations, as well as custody and security procedures. An associate degree provides a strong foundation for work in most local and state facilities. The Federal Bureau of Prisons requires that "entry-level correctional officers to have at least a bachelor's degree or 3 years of full-time experience in a field providing counseling, assistance, or supervision to individuals or a combination of these two requirements."
Job Opportunities in Corrections
The U.S. Department of Labor indicates that, although the job outlook for corrections officers is expected to grow at a slower rate than that of other professions over the next few years, job opportunities for correctional officers are expected to be excellent. The need to replace correctional officers who transfer to other occupations, retire, or leave the labor force, coupled with rising employment demand, will generate thousands of job openings each year. In any case, formal education in this field will provide the best opportunities for work and higher salaries. The median annual earnings for correctional officers in 2004 was $33,600; for supervisors and managers it was $44,720; probation officers and correctional treatment specialists $39,600; and for bailiffs $33,870.