Counseling
Online counseling degrees from accredited universities and schools.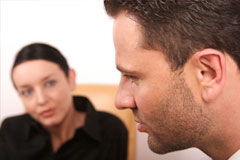 What is Counseling?
Counselors provide other people with advice and guidance to assist in resolving problems or concerns they may have regarding personal, family, health, education, or other issues. Such issues may be of a physical, mental, emotional or spiritual nature. The specific duties performed by counselors vary significantly depending on the persons being served and the particular work setting. Counselors generally need to be effective listeners with the ability to skillfully analyze and resolve problems, communicate ideas and provide thoughtful support and wise direction.
Counseling Degrees
States vary some in their requirements for counselors but all States require school counselors to be certified and to have completed at least some graduate course work. Most require a master's degree. To be licensed as a counselor usually requires a master's degree. A bachelor's degree often qualifies a one to work as a counseling aide, rehabilitation aide, or social service worker. The educational path you choose will, of course, depend on your overall goals and availability of time and financial resources. Consider the convenience and value of pursuing an on-line degree through one of our associated universities and schools.
Job Opportunities with a Counseling degree.
Overall employment of counselors is expected to grow faster than the average for all occupations over the next few years, according to the U.S. Department of Labor. Also, the median annual earnings of educational, vocational, and school counselors in May 2004 were $45,570. The median annual salaries of substance abuse counselors, behavioral disorder counselors, mental health counselors and rehabilitation counselors ranged from $27,870 to $32,960.