Criminal Justice
Online degrees and programs in criminal justice, public safety, forensics, law enforcement and more from accredited schools and universities.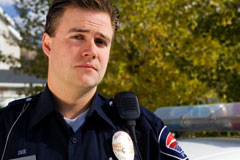 What is Criminal Justice?
According to Wikipedia, "criminal justice refers to the system used by government to maintain social control, prevent crime, enforce laws, and administer justice." The means of doing so are accomplished through several different agencies as directed by both the federal and state governments.
The criminal justice system is comprised of law, law enforcement (police), courts, corrections, and other sanctioned agencies to implement and enforce laws. As such, the opportunities to pursue a career in the criminal justice field are great.
Criminal Justice Degrees
The skills and training necessary in becoming specialized in a variety of criminal justice careers is extensive. There are many programs within the field that offer jobs based upon proper certification and training, while other more complex programs will require an associate's, bachelor's, or even master's degree.
The opportunity for an education in criminal justice is no longer limited to brick and mortar colleges and universities. Criminal justice courses and programs can now be found anywhere there is an Internet connection, making it accessible to just about everyone.
Online degrees in criminal justice will give you the aptitude and means that are essential in the everyday duties of your desired area of expertise. Whether you are new to the field or looking to advance your current situation, there is a degree program that will help aide you in making a good career choice. To understand what degree or program you should pursue it is important that you research the field of study that most interests you and select a school or university to attend based upon proper accreditation and program placement.
Job Opportunities in Criminal Justice
Careers in criminal justice offer a myriad of positions including: lawyers, paralegals, judges, police officers, private detectives, game wardens, forensics specialists, probation and parole officers, Homeland Security officials, and more. Even amidst the competitive nature of these fields, an education and degree will prove to most valuable in giving you the upper hand in edging out that competition.
According to the U.S. Department of Labor, there will be a 29 percent increase within the next 3 years for trained personnel including: police officers, forensic specialists, corrections officers and Department of Homeland Security employees, as well as several other criminal justice-related jobs.