Culinary Arts
Online culinary arts degrees from accredited schools and universities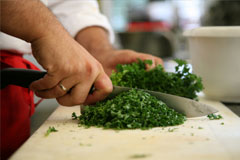 What is Culinary Arts?
Simply defined, culinary refers to the cooking, preparing, or handling of food, usually performed at restaurants. Culinary can be anything from fast food preparation to chef related tasks that involve creating recipes and preparing meals. The culinary field covers a breadth of vocations that can provide fulfilling careers for those who enjoy cooking and/or preparing food.
Degrees in Culinary Arts
While it isn't necessary to have a degree for many culinary type jobs, in order to advance to a cook or chef, some type of training or degree may be required. For advanced cooking positions, two to four year certification or associate degree programs are available. These can be obtained through various culinary institutes, cooking schools and community colleges. Those who wish to become executive chefs at high-end dining establishments must have a deep desire to be innovative in their cooking and willing to take part in many years of intense training. The time it takes to obtain a culinary arts degree or certification is varied upon the type of work or specialization you are interested in.
Job Opportunities in Culinary Arts
With the expansion and growth of the food industry in America, jobs in this field will continue to grow. According to the Bureau of Labor Statistics the increase of jobs in the culinary field generally, will grow as fast as average to faster than average over the next several years. Wages for full-time cooks and head chefs range anywhere from $26,000 upwards to $47,000 annually. The most common and popular vocations in the culinary arts field are bakers, caterers, and chefs.