Culinary Degrees
Online culinary degrees from accredited universities and schools.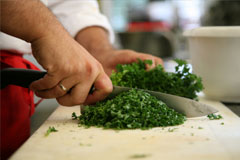 What is a Culinary Degree?
The word culinary is defined as being related to a kitchen or cooking. People who chose a culinary profession may be employed in restaurants, cafeterias, fast food establishments, hospital or rest home food services, catering or other types food service establishments. They may be involved in nutrition analysis, recipe creation, menu planning, food science, food packaging and canning or other food-related work. If you are interested in a profession in any of these areas you may want to pursue a culinary degree. You may also be interested in a degree in nutrition. Learn how to become a nutritionist.
Culinary Degrees
Most fast food and short order establishments will train employees on the job for service in individual locations but on a corporate level may require formal culinary education to develop recipes, menus, packaging, sanitation policies, etc. Most restaurants and restaurant chains prefer degrees in culinary arts or culinary management for chefs, cooks and management. Hospitals, rest homes and other establishments charged with maintaining and improving the health of their residents may require higher degrees with emphasis in nutrition and food sciences. Available degrees include associate, bachelor and post-graduate and focus in areas such as culinary arts, culinary management and catering.
Job Opportunities with a Culinary Degree
The U.S. Department of Labor indicates that job openings for chefs, cooks, and food preparation workers are expected to be plentiful through 2014. Opportunities in this area are expected to increase about as fast as the average for all occupations over the next few years. Increases in population, household income, and leisure time that will allow people to more often dine out will stimulate employment growth. Also, increases in two-income households will lead more families to opt for the convenience of dining out. Wages for employees in the food service industry vary greatly according to locality, type of establishment and the specific type of job but, as examples, the median hourly earnings of chefs and head cooks were $14.75 in 2004 and median annual earnings of salaried food service managers were $39,610.