Curriculum Instruction
Online curriculum & instruction degrees from accredited universities and schools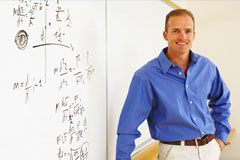 What is Curriculum Instruction?
If you enjoy working with people, are proficient with computers, developed good communication and problem solving skills, and are well organized then perhaps an online degree in curriculum instruction will help guide you to a fulfilling career. Curriculum Instruction refers to the education field of study where the components of research, development, technology and implementation of curriculum changes are set forth in order to provide a higher level of student success in school. It is simply the means whereby the best way for students to learn and the ways in which to educate them is set forth. Curriculum instructors are usually specialized in a specific subject area, such as math, and tend to remain at the level of education, such as 5th grade, they are trained in.
Degrees in Curriculum Instruction
Those who seek to become curriculum instructors must have a minimum of a four-year bachelor's degree in some sort of educational field although most employers prefer an advanced degree, such as a master's. Curriculum instructors specialize in employing certain tactics to help make the most out of the learning process for students. As a result, they must be knowledgeable on how to teach different groups of students as well as developing new and effective learning material. Experience as a school administrator or teacher can help one become a professional in this vocation.
Job Opportunities in Curriculum Instruction
Career opportunities in curriculum instruction are as widespread as the levels of education offered in our communities. These professionals can be found anywhere from public elementary schools and private universities to school district offices and research centers. In any case, the demand for well-qualified curriculum instructors seems to be on the rise and will continue to do so for years to come as they are challenged with keeping the learning curve on equal footing with the quick paced rate of technology and information. According to the U.S. Department of Labor, about 117,000 individuals were employed as curriculum instructors in 2004 and earned an average of $48,790 per year. Earning potential in this field can climb upward to $80,000 per year.