Deciding to go Back to School
Going back to school as an adult can be a difficult decision. Clearly defining what you hope to accomplish by completing your degree or earning an advanced degree will simplify the decision-making process.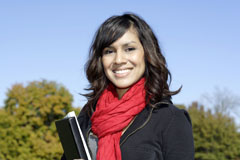 This story will obviously be told based on my own experience. However, I urge you to take the basic concepts and apply them to your own situation.
When I graduated from college, I was 100% certain that I would never go back to school because I had no desire to be in a classroom any longer. I felt that I had all of the education that I needed to succeed in the real world. It took me two and a half years to change my mind. In that time I learned the following:
I can have success in the real world with the college education that I already received.
I was not satisfied with what I could achieve because I had set higher goals for myself.
Value of Education in the Real World
Let's start with the first point listed above. In order to achieve success in the real world you do not have to go back to school. That is because success is a relative term. It all comes down to how you define success. My grandfather graduated from high school and had no education after that. He started and built a highly successful small business that has been carried on by his son. My dad took community college classes and has done well for himself in various different business ventures. I received two degrees from a four-year college and can do lots with those degrees. However, for me, I sense that the business world is continuously evolving and that a master's degree would go a long way for my goals, which brings me to the second point.
Clarifying Your Educational Goals
We must all understand that all forms of business will always evolve. I am someone who wants to stay current with what is going on in the world. This past September I crossed paths with a handful of graduate students who were pursuing a Master of Business Administration Degree. These were people who already had full-time jobs, yet here they are taking time out of their lives to push themselves toward a higher education because they want more out of life. I began to ask myself why I should follow in their footsteps and quickly came up with plenty of reasons…a better understanding of economics, finance, and accounting including many others. So, then I asked myself why I should not pursue an MBA. I could not come up with a good reason. I would just be holding myself back from a quality education that will further prepare me to be a successful manager and entrepreneur. If you cannot come up with a good reason to not do something worthwhile, then go for it.
Take time to evaluate your skills, experiences, and goals. Decide how much you want to accomplish and how well prepared you are at this point to do that. See if they match up. If they don't, then evaluate what you feel you need to do to achieve what you want. School is an excellent place to start. Whether you have a high school diploma and want a two or four-year college degree, or if you have the college degree and want more beyond that. I had to let go of my pride to realize that, even though I am already in the real world, that a higher education is something that I need in order to be who I want to be.
By Gus Kroustalis, a writer at Helium.com