eBusiness
Online eBusiness degrees from accredited schools and universities.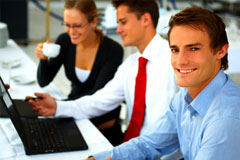 What is eBusiness?
eBusiness, or electronic business, is business that takes place over the Internet. It not only involves the buying and selling of goods and services online, but can be termed as any business practice, such as distribution, production, management, etc., that takes place on the world wide web and the technology that drives it. With the scope of eBusiness as broad as it is there are several options when it comes to a vocation in this field. However, a proficiency in information technology and its relationship to online business practices and communications via networks will prove to be most useful.
Online Degrees in eBusiness
With more and more business being transacted through the Internet worldwide, employers are looking for qualified individuals who can take their companies and give them a strong presence in the online global marketplace. Obtaining an online degree in eBusiness will provide the foundation that will help secure a job in this evolving profession. Many online schools and universities offer programs and degrees that are geared towards an emphasis in eBusiness. Courses and programs that are associated with eBusiness degrees can include management, information technology, economics, operations, web design, and more.
Job Opportunities in eBusiness
With companies need to expand to a worldwide market, jobs in the eBusiness field will continue to grow at a high rate throughout the next ten years. It is projected that revenue of these companies will reach as high as 1.5 trillion dollars by 2010. Possible professions in eBusiness include web design, network administration, systems analysis, SEO (search engine optimization) specialists, administration, management, and more. With the variety of careers eBusiness offers, one can expect to earn anywhere from $35,000 annually for entry-level positions up to $100,000+ for high-level/managerial positions.