Education
Online education degrees from accredited schools and universities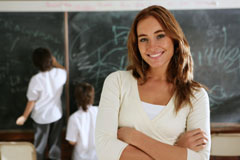 What is Education?
Education is generally classified as learning that takes place in schools, homes, communities, or the world in general. It is largely based off of the values and accumulated knowledge of a given society. In today's society, where there is more knowledge to be had, a more formal means of teaching and learning make school and the teacher essential. The type of formal education, how it is received, and who receives it has varied widely as the world has become more inter-connected and technologically advanced.
Formal education can be obtained at so many levels: pre-school, K-12, college, career training, and more. Whatever the designation, there are countless opportunities for students to not only receive a formal education, but to take their education and turn them into fulfilling careers.
Degrees in Education
As the educational spectrum varies so widely, there are numerous degrees and training that can be acquired to obtain the necessary skills and techniques to become a professional in education. Education is such an important part of our culture that it requires proficient and qualified members to enter its doors. Teachers make up more than half of all jobs in this field and in order to become a teacher one must have at least a bachelor's degree in some sort of formal educational training. In fact, most jobs in this profession require continuing education and certification to maintain an edge as this world in which we live continues to evolve at a seemingly rapid rate.
As online degrees are becoming more prominent it is no longer necessary for students to attend brick and mortar schools and universities to obtain a formal education. If educational teaching and/or administrating are your lifelong ambitions, then an online degree program in education can help you secure this dream.
Job Opportunities in Education
The breadth and scope of careers in the education field include that of school administrators, teachers in kindergarten to college, curriculum designers, and more. The demand for well-qualified educators continues to rise. According to the U.S. Department of Labor, the educational sector employs more than 10 million people. The majority of these jobs can be found in grades K-12, since it is required that all citizens under 16 years of age must be enrolled and attending school.
One profession in the educational sphere shows that according to the American Federation of Teachers, beginning teachers with a bachelor's degree earned an average of $31,704 in 2004. The estimated average salary of all public elementary and secondary school teachers in 2004 was $46,597.