Educational Leadership
Online educational leadership degrees from accredited universities and schools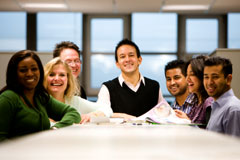 What is Educational Leadership?
If you are currently in the educational profession as a teacher or counselor, are seeking for advancement opportunity, and have strong interpersonal and communications skills then perhaps an online degree in educational leadership will guide you to a more fulfilling career. Education leadership refers to top-level, or leadership level, administration positions within the educational field. Administrators' primary responsibilities are to manage the daily activities in schools. These include setting educational goals and standards, supervising teachers, counselors, and other staff, developing academic programs, monitoring students' progress, and more. The level at which these duties are performed are dependent upon the size, type, and function of the educational school or institution. For example, an administrator in a small elementary school may be able to handle all of these duties, whereas in a large college or university these responsibilities are divided among several administrators.
Degrees in Educational Leadership
Degrees in educational leadership not only require experience at the educational level, such as that of teachers, but also require at least a master's or doctoral degree in an associated field. Principles, deans, office administrators, and directors for the most part held teaching positions before becoming educational administrators. Because of the varying positions and responsibilities in educational leadership, most seeking these positions will work their way up to administration through other related jobs such as counselors, librarians, or recruiters. As with most top tiered positions, the more experience and education you have, the greater likelihood of securing a job in this field exists.
Job Opportunities in Educational Leadership
According to the U.S. Department of Labor, employment opportunities in educational leadership will grow as fast as the national average for most occupations through the next several years. As the importance of being qualified and competitive in today's work force continues to grow, education and the need for people to lead these educational programs will also grow. As the USDL predicts many retirees in these administrative roles over the next 10 years, a great opportunity presents itself for those seeking advancement in their educational careers. Annual salary earnings for principals in elementary, middle, and high school in 2005 ranged from $74,000 to $82,000.