Elementary Education
Online elementary education degrees from accredited universities and schools.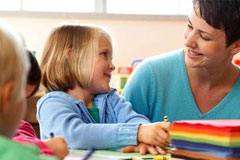 What is Elementary Education?
Elementary education normally involves the teaching of children in kindergarten through grade 5 or 6, depending on locality. Beyond the obvious task of providing students with instruction in the basic skills of reading, writing and arithmetic, a teacher performs many additional important functions. This includes developing and employing curriculums that will provide students with knowledge and information that will help build them mentally, physically and spiritually. It includes the ability to understand and interact with students in ways that will provide encouragement, draw out their talents, reward them for their work, motivate them to achieve and at times provide comfort, a feeling of being loved, or just a listening ear. At the same time, it can involve patience in dealing with unruly or uncooperative students. As with any occupation, it can entail considerable self-sacrifice and long hours.
Elementary Education Degrees
In general, educators on the Kindergarten and Elementary school level are required by states to complete an approved teacher education program, be licensed and have a bachelor's degree. However, many states offer alternative licensing programs to attract teachers for positions that are hard to fill. Most states require continuing education for renewal of a teacher's license.
Job Opportunities with an Elementary Education degree.
Job opportunities for teachers of Kindergarten and Elementary school are expected to grow as fast as the average for all occupations. The Department of Labor also indicates, "fast-growing states in the West particularly California, Idaho, Hawaii, Alaska, Utah, and New Mexico will experience the largest enrollment increases. Enrollments in the South will increase at a more modest rate than in recent years, while those in the Northeast and Midwest are expected to hold relatively steady or decline. Teachers who are geographically mobile and who obtain licensure in more than one subject should have a distinct advantage in finding a job."