Finance
Online finance degrees from accredited universities and schools.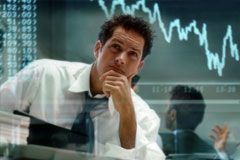 What is Finance?
If you enjoy working with numbers, are an effective problem solver, have good business sense, and exhibit good communication and analytical skills then perhaps an online degree in finance will guide you to a fulfilling career choice. Finance refers to the decision-making process within a company made by financial managers and consultants. They take financial statements prepared by accountants to make decisions about the company's financial state and advise the company about possible losses and profits. In some cases, finance is more a type of leadership position. A financial manager has to deal not only with finance, but also with economics, accounting, statistics, math, and management.
Finance Degrees
Due to the important nature of financial managers in assessing a company's financial well being, employers usually require a bare minimum of a bachelor's degree in some sort of business related field of study such as accounting, business administration, risk management, or economics. However, most mid to upper level positions require a master's degree in a similarly related field of study. States also require a determined amount of continuing education for financial managers at designated periods of time in order to keep up and understand the constantly changing laws and regulations in the business world.
Job Opportunities in Finance
Degrees in finance often lead to careers in banks and other financial institutions, government, consulting companies, insurance and investment companies, stock market exchanges, and any company that needs someone to make executive financial decisions. According to the U.S. Department of Labor, jobs in finance will remain steady throughout the next seven years. A career in financial management can expect to pay anywhere between $59,000 upwards to $112,000.